Whether you were born with the know-how to giddup racing through your veins or you just moved to the beautiful wild open country, there are countless different ways to incorporate the culture into your home decor. With decorating trends like rustic and farmhouse style rooms, there really has never been a better time to give your room a little taste of the south. In this blog, we'll show you how to get the perfect country style bedroom and give you lots of ideas for creating your own. Y'all ready to get this show on the road?
Decorating With Country themed Decor
One of the key indicators that your style has a twang of the country is the presence of animals – usually, their heads hung on a wall (bonus points if you have camouflage present.) However, if you consider yourself to be a bit too sophisticated for hunting and gathering, we have a few other tricks for incorporating animals into your country style bedroom.
This young hunting lover's bedroom sports a camouflage bedspread and a slew of deer horns all over the walls. Between the little wood wall decor and the antlers at every turn, there's no doubt that this brave little one is country to the core.
Speaking of rooms for younger country bumpkins, this little one's room has a makeshift barn built around their bed with a most-welcoming "Home on the Range" sign. With this horse-stall bedchamber and the wall decor of the horse just a few feet away, this child is sure to know the ins and outs of farm life by the time they grow out of this room.
A common luxury item found in high-value homes is fur adornments. From zebra skin rugs to big, voluptuous fur coats, these items seem to give off the feelings of wealth and elegance. So, if your farmhouse style bedroom needs some high-class decor to help give it a little hint of finesse, an animal skin item is the way to go. Just like the cow skin rug, farm-animal inspired accent decor helps you to keep your country theme without forcing you to sacrifice any high-class style preferences.
When farm-animal decor fails, barn decor is there to save the day. In the photo above, one piece of a stable was reclaimed and turned into a headboard for this country chic bedroom. We like to the think it compliments the chandelier and boot collection pretty well. In the other photograph, barn doors were used to make a classy corner entryway to this gathering space. The creativity aside, this use of the doors, with no visible locks and easy entry and exit, also makes the look all the more inviting. This accomplishes the goal of introducing the beloved southern hospitality through something as simple as home decor.
Another way to bring the barn to the bedroom is through common materials like wood and metal to complement the vintage furniture. This ceiling has been replaced with sheet metal that is commonly seen on tin roofs. Hearing the rain hit the tin during the wet months is enough to sweep you back to the past of being in grandmother's kitchen with the smell of fruit cobbler wafting through the house.
In a more modern farmhouse style bedroom, we can see how the designer has used a different type of decor inspiration – chapel windows. With the south being known for all it's holy days and Sunday luncheons, the chapels are well-known symbols in any off road town. After removing the glass, these three window frames make a unique and aesthetic headboard.
This darling children's room with cartoon farm animals and barn depictions is the perfect hideaway for any future farmer. With the bright yellow bedroom walls and deep red barn exterior, this vibrant room is fit for any country baby.
Mojave Masterpieces
Farms aren't the only scenes that are ravaged with cowboys. In fact, the signature hat and saddle can also be found galloping through the desert and battling the heat. To bring this unique take on farmhouse to their master bedroom, the designers incorporated succulents into this light and airy boho country style bedroom.
Another way to incorporate the desert feel is to make use of the colorful serape often seen worn as ponchos. To bring the New Mexico and Arizona vibes to your desert-inspired country style room, try draping one of these vibrant blankets over your bed, using them as a comforter, or going the extra mile and showing off a cuddly cactus pillow.
Another way to bring the desert regions to your room is by showing off its incredible landscape. The beauty of these place ranges out far past where the eyes can see, but through creative photos and an unexpected cool color palette, this designer shows off an entirely new side of the desert. It even uses some 3d home decor to enhance the colors and scenery.
Antebellum Accessories
Many traditional country decor items come from a pre-war time in the deep south where much of the focus lied in making the room ornate, but also impeccably hospitable. These additions can give your interior a taste of the southern past and help it to stand out among modern country designs that are commonly seen today.
Floral wallpaper is undoubtedly one of the most telling trends of this era. These wallpapers bring a feminine feel to the room and come in a variety of patterns, colors, and designs. While it was common to see these plastered over each wall in traditional farmhouse rooms, you don't necessarily have to do the same. Today, it's trendy to see wallpaper used as an accent, sometimes covering only one wall to make it stand out.
Floral patterns, as popular as they were, could also be seen used in other ways, to give certain country rooms more of a garden feel. With peony-lined headboards, sheer floral curtains and watering can rugs, these brightly colored decor items give a bit of a refreshing twist to the usual dull, repetitive flower pattern that one might expect to find on a decor item from this time in history.
Another telltale sign of historical decor is antique-style furniture. Iron bed frames and detailed wooden chairs are both reminiscent of older style country homes. To really go full force with this style, you could add antique suitcases or a vase full of fresh, pale flowers as the perfect decor accent just like these country themed bedrooms with light and airy decor.
One way to bring the plantation-era interior style to your room is to switch up your bedding. Usually handmade, many rooms featured detailed and embroidered quilts. Available in many sizes, styles, and colors, it is very easy to get your hands on a good quilt today. Whether you like them pleated or patched, quilts are very available and a simple way to get your bedroom off on the track toward a southern style. They are also great for layering!
For collaboration of modern chic and traditional country, consider bed frames that are the best of both worlds. Choices like wooden spokes and canopy-style bed frames as well as fabric French pleated headboards all work beautifully in a southern room that needs a taste of modern design. Another way to add old southern styles to your room is the use of matching fabrics for the furniture, thick drapes, bed skirts, accent pillows, and ottomans. If there's one thing that stands out about this type of interior, it's that these busy, repetitive patterns are sprinkled in across the room to create a cohesive and truly put-together room.
Wood Panels and Washboards
While the wallpaper and the floral quilt are obvious signs of the country style in this room, another element is the wall of alternating wood panels. Most commonly used in rustic settings, these vintage-looking, weathered wood panels have a number of uses when creating country rooms. In fact, most of these walls are so easy to construct that you could put up a wood wall yourself.
Another way to use these rustic panels as room accents is to make a bed frame out of them. These designers went a step further and created a step stool up to the bed that matches the frame and even has the same teal color accent.
For this white bedroom, the wood accents are seen in the raw, bare wooden beams on the slanted ceiling. There are many ways that these could have been painted or covered, but for the country effect, these designers left the wood untouched because it brings a natural, almost cabin-like feel to the room. It's like bringing the presence of the outdoors right into your country style master bedroom!
Again, we're able to see another example of how wood walls work beautifully as accent walls when paired with either wallpaper or solid color paint. However, in this room, there is also wood art on display. This type of art shows what appears to be stenciled drawings of young children, but this type of wall decor can also be used to display quotes as well as photos, prints or drawings. We also think the burlap bed skirt and matching country window curtain are perfect accents for this country guest bedroom!
Another way to make your wood panel creation reflect your own unique style is to get creative with colors. This wood panel headboard is more unique than the others because of the variety of colors and the way they reflect the colors found in the pillows and other furniture. This vintage board was even assembled to look staggered, giving it its own personal style in this farmhouse bedroom.
In a more minimal room, we can see how raw beams can also be used as an added decor aspect rather than just worked around. These basic stylish beams on white walls and ceilings were added to this slanted wall to give off the same cozy vibes as the other room and with the fireplace nearby, we can definitely say that they're doing their job!
Farmhouse Feels
With the emergence of Chip and Joanna Gaines' modern, minimalist, and chic farmhouse style, designers everywhere have been trying to recreate these unique and cozy spaces. We think that with a few key items and a white bedroom, you can have your own sleek farmhouse inspired bedroom in no time at all.
The contrast of light neutrals paired with dark gray and black are classic color combinations found in the farmhouse style of interior. It's also one style of design where textures are often mixed and put side by side, such as the white brick walls beside the antique wood blinds and white bed set which were being used as a headboard. Another common combination is wood furniture accented with cozy, thick crocheted blankets.
The use of stark white mixed with neutrals, such as brown shades, is seen again in this shared room. The youthful faux fur blankets and fun star lights suggest that this room is probably shared by children. With a style that is as flexible and versatile as the minimalist classic farmhouse style, it can be, and often is, used to decorate both children, adult and gathering rooms.
A staple decor item for country rooms that are following a farmhouse layout is greenery. From bold magnolia leaf wreaths to potted herbs as accents, nearly any green plant will look at home in a neutral-set, fresh and sleek country room. The only type of plant not commonly found in this style of room are succulents.
One main idea of the farmhouse design is minimalist decor. This rooms takes that concept and uses it to its fullest potential with a raw-cut, wooden headboard and a cloud-like solid white bedspread. One signature pillow, an adorable shelved cactus, and a few other accents are all this room needs to help it maintain its's clean-cut, simple style.
When working with neutrals, it can be easy to run out of ideas fast. One way to keep dimension present in a room full of neutrals, especially if you aren't one for minimalism. A perfect way to switch it up and keep your farmhouse style in check and stylish is by working with textures! The different pillow sets seen above showcase everything from crochet cases to fur to quotes to ruffles. A great pillow stack can add volume to your bed and dimension to your cottage bedroom all while allowing you to stick with your color palette and theme of choice.
Pretty in Plaid 
This mix of vintage and cabin-style shared room is to die for, featuring iron bed frames and the simplest but most precious soft-colored bedding. We especially love the use of the plaid blankets, which give this room an undeniable country decor accent and adds a comfortable, cozy aspect to a room that might otherwise look uptight and dorm-like. When decorating shared rooms, you get the best of both worlds!
A thicker, bolder plaid design is called buffalo plaid. It can be used in conjunction with floral quilts for a traditional master bedroom or with farmhouse country guest room for an updated and more modern style room. It can easily be paired with other designs like stripes to add a little extra texture to the room.
Country Cabin
Those who love the country almost always love the outdoors as well. By creating a space or a cottage bedroom inspired by a cozy cabin way out in the country, you can experience a unique side of country decor that utilizes elements such as deer antlers, wood carvings, warm bedding and a serene environment.
High ceilings and the use of the common nature colors green and brown in a variety of different shades creates a space where anyone will be able to sense the earthy, grounding atmosphere. With this type of design, the serenity of the countryside is never far away, just like this guest room.
This guest bedroom mixes industrial style lighting and a dark gray palette with antlers and a wooden bench to make this cabin feel like it's set up above the countryside and nuzzled deep into the mountains. The cozy bedding, dim lighting and rug all come together beautifully to create an environment of calm.
A cabin is only so much of a retreat without a signature, ultra-cozy fireplace. In this cabin-style country master bedroom, a stone fireplace sits under a wooden beam ceiling that will make you feel like you're miles from cell phone reception, work and responsibility each time you enter this cave-looking country chamber.
One thing often found in cabins is the detailed and unique carved woodwork that is incorporated into everything from light fixtures to cabinets to bed frames. There is truly nothing like feeling like your home among the trees once belonged to the forest itself. Wooden home decor will make your country cabin feel as if you're surrounded by nature even while indoors.
A typical outdoorsy design palette of neutrals, greens, golden shades and sweater patterns come together effortlessly to make any country cabin bedroom look like a vacation house on the lake, far from the city. Hanging skis on the walls or displaying a stack of books on your bedside table are surefire ways to bring your favorite outdoor activities inside and show them off in your signature country space.
Cream of the Crop Country Bedrooms
A space that mixes country design with boho and modern elements, this bedrooms shows off a cozy fur rug and a beautiful wooden headboard, making it one of our favorites for a younger country-lover's bedroom design and easy to recreate in small spaces or dorm rooms. It's full of style, fitting for the stylish cowgirl or the backpacker settling into their countryside retreat.
With the exception of the lamps, each piece of furniture in this secluded cabin is made of a wood and accented with dark, sleek metal details and handles. We can't get over the brilliant combination of minimalistic design and clean-cut wooden elements in this cabin that is fit for any visitor who appreciates a spectacular design.
While we've shown only a few examples of more sophisticated country rooms, this farmhouse-inspired master bedroom shows that you can have your country life and your luxury taste all wrapped up in one incredible design. With upscale elements like the lodge-style chandelier, marble fireplace, and the fur throw, this modern master gives off vibes of serenity and sophistication perfect for anyone who loves the calm of the country but can't sacrifice their love for extravagant decor.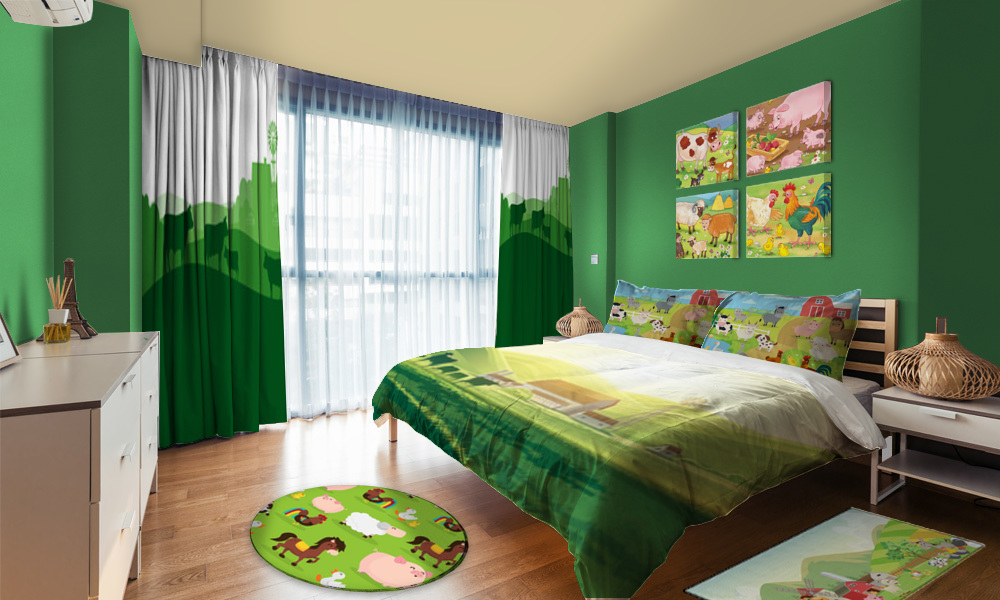 This incredible kids' farm-themed room showcases cartoon farm animals, 3d decor and a simple yet energetic color palette of green and white. Perfect for any little farmer, we think this room is a countryside paradise full of imagination that will have people wondering if they really were raised in a barn.
Getting the Dirt on Your Boots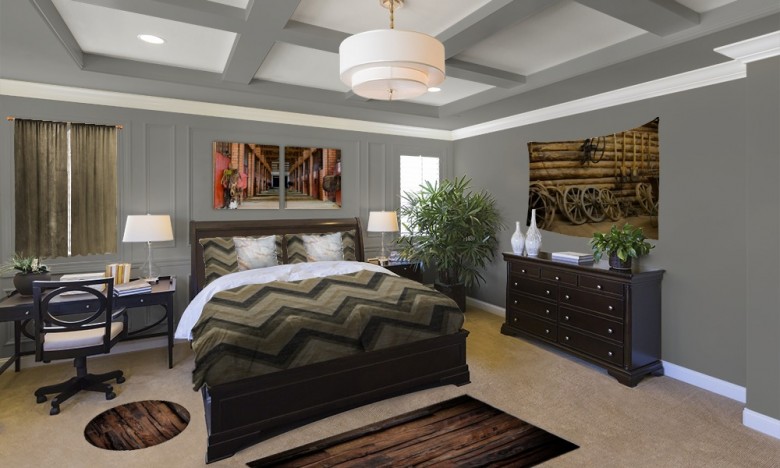 We've walked you through today's most popular trends in country design. The next step is to choose your favorite and get started putting together a room fit for all the design-loving yankees, rednecks and southerners among us. While people may tell you that you're acting too big for your britches, you can be confident that you're ready to style a timeless room that will be not only fitting for your personal style, but full of home decor that is the most popular in today's interior design environment. Y'all come back now!