What Is 3D Home Decor?
While it may sound complex, 3d home decor simply consists of two-dimensional decorative accents, such as bedding sets, curtains, and murals, whose fabric designs appear to be three dimensional. 
Visuals of close-up animals, roaring waterfalls and sparkling city skylines are so lifelike, they'll make your guests do a double take. You also have the option of using your own photographs. The realistic appeal from these graphics can add boldness and vibrancy to any room. Plus, they're perfect for giving any themed room the added touch it needs to really communicate the message of the room, not to mention making it more stylish.
In fact, Google searches for "3d decor" and "sublimation" have shown steady increases over the last decade, ultimately reaching an all-time high in 2018.
While searches for "decor" have also grown in number, "3d decor" showed a substantially higher increase.
The 3d illusion from the designs is based not on what graphic or photograph is used, but rather, on the unique printing process.
Brief History
Colorful interior fabrics date all the way back to the 12th century when Europeans were highly involved in expanding trade routes. The dye they were using for the fabrics that they planned to export would fade when washed, giving the fabrics a reputation as a decorative element, as leaving them on display would help preserve the colors.
Both wood blocks and copper plates were past methods of pressing ink patterns onto fabrics until Thomas Bell patented machine printing as an alternative in the 1700s.
These machines were faster and more cost-effective and by 1860, they could process expensive fabrics, intricate designs and print up to eight colors. Digital printing came onto the scene in the late 1980s, using new methods to print colored dyes onto fabric. Less than 10 years later, the sublimation printing method was developed, which uses high temperature to transfer solids to gases and then chemically fuse them with the fabric to transfer the image, sometimes giving it a three-dimensional appearance.
This advancement allowed for creating the now well-known customized t-shirts. Possibly less well-known, however, are the eccentric and diverse personalized home decor options that you may never realize are the product of such a valuable printing method.
From blankets, lampshades, pillows, and curtains in your living room to shower curtains and bath mats in your bathroom, home decor that came about because of dye-sublimation are everywhere and the possibilities are endless with new graphics being designed and new photographs being taken every single day.
In fact, how we came about using 3d decor is realizing that the chemical reaction that takes place creates such a high-resolution image that, if your design or photo looks 3d, so will the decor you have it printed on.
How to use 3d decor
With themed rooms becoming more and more popular for children, athletes, and professionals everywhere, the market is booming with people seeking specific and intricate additions for their rooms and homes.
In fact, Google searches for "3d decor" and "sublimation" have steadily increased over the last decade, reaching an all-time high in 2018.
Bring Ideas To Life
Whether you're a professional interior designer or just spend a lot of time on Pinterest, once an idea is in your head, it can be hard to persuade yourself to settle for something less. With the endless options of what 3d design to have printed on your bedding, curtains or towels, and the ability to use your own photo if you can't find what you're looking for in the graphics available, it's never been easier to get exactly what you want to give character to your space.
Give Character to Themed Spaces
The emergence of 3d decor is especially leading the way for specialty and themed rooms. From the soccer aficionado whose bedroom shows off their passion at every turn, to the flower expert whose bathroom is flooded with colorful blooms, enthusiasts everywhere are incorporating 3d designs into their unique spaces.
Update Modern Spaces
Many of these styles, patterns more so than graphic pictures are used unexpectedly in modern-day interior design as well. In fact, if it weren't included here, you may never even know that it was considered 3d decor! In this bedroom, while they may or may not be the product of sublimation printing, designer Mary McDonald exhibits bold, three-dimensional looking, designs on her curtain choice, expanding the overall feel of the room.
In her portfolio, this room is found under the "whimsical" folder, giving the impression that these types of designs are still thought of as being mostly used in specialty rooms. Nonetheless, with the rise of vibrant murals and the ever-changing trends of home design, 3d home decor is quickly becoming a factor many designers are experimenting with.
Give Rooms a Personal Touch
People have been displaying family photos in their homes for decades, but rather than replacing that traditional and classic method of personalization, using 3d home decor simply adds to it and enhances the experience. Being able to customize fabrics, blankets, and pillows is just another way you can furnish your home with decor that is designed specifically to help you make your space your own like this 3d bedroom below.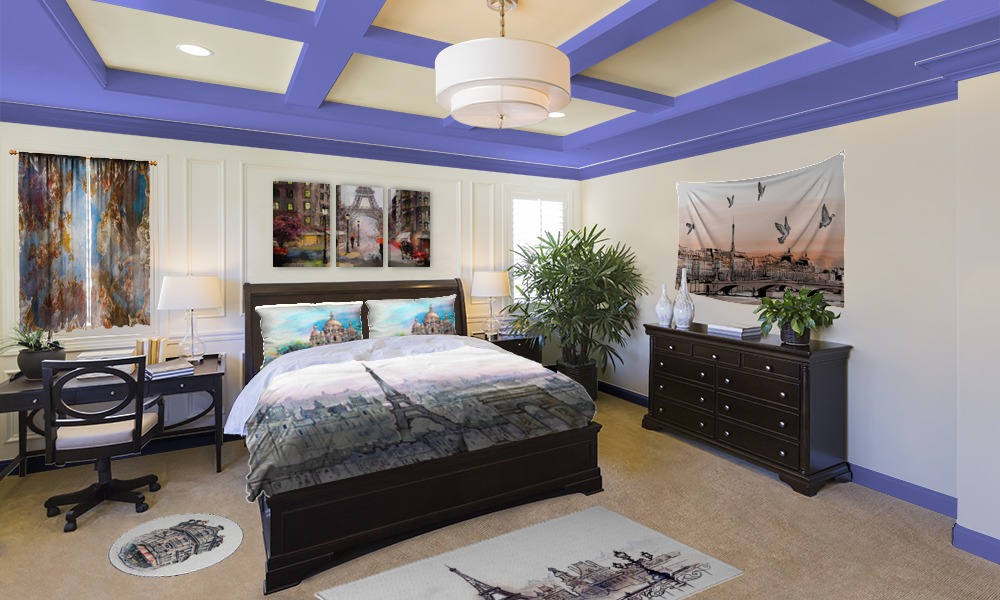 What's the purpose?
The overall gravitation toward 3d home decor comes from its ability to emphasize and enliven a space in a unique way that other decor cannot. Characterized as bold and eye-catching, 3d decor immediately draws the eyes of guests and visitors, often being the most prominent and striking element in the room. Anyone who is decorating with muted or pale colors can benefit from 3d decor by using it to add a bit of "pop" to their space, while those who like to go all out and fill their spaces with eccentric pieces will find that 3d decor fits their style better than any other type of decor on the market.
Where to start?
By this point, you know that by incorporating 3d decor, you can give your room the attention and decorative flair that only comes from this type of design. If you're intimidated by the intensity of these styles, start small by just replacing a few pillows or a small piece of art. The best part of the 3d decor is that it simply just refers to a type of visual rather than an actual product. So, much like you can choose to stick a monogram a small cup or an entire wall, you can implement 3d decor in many different ways, subtle or prominent, to suit your style. Perhaps the best feature of 3d decor is that it doesn't require time-consuming or difficult installation because you're simply replacing lightweight curtains, bedding, and towels.
If you're still skeptical, start with an exciting birthday gift and we guarantee that after trying it out in your kids' crazy bedrooms, you're bound to be so impressed that you'll go back and order a beautiful, eye-catching and modern-day mural for the living room.
For more inspiration, check out the examples below.